Smart Electronics: a One-stop EMS solution
We provide a total solution for Electronics Manufacturing Services. Our high end technology facility uses a digital manufacturing approach using AOI in every process.  All technical information supplied by our customers is checked using our in-depth engineering system (CAD-CAM) to ensure any anomalies are resolved before manufacturing starts or tooling is generated.
Current growth areas are in the flexible and flex-rigid ranges of products we manufacture and machines of pure ceramic products, with the latest 3D milling machines
Our manufacturing services ensure that all products are manufactured and dispatched to meet all customer expectations/requirements including prototype.
Fast and easy PCB procurement,  provide a wide-range of electronic design services including, but not limited to, Schematic design, Analogue design, Digital design, Power design, Layout, Board bring up and validation.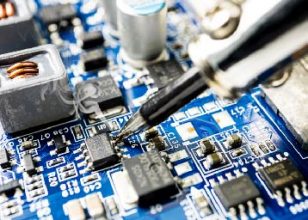 PCB Manufacturing and Assembly
From just a single piece to assembling many thousands, we are a one-stop shop for all PCB services from design to assembly. From our stocks and/or through our strong network of partners we provide the most advanced components for your prototype or production units.
Component Search
The component search is a critical area for every project which is becoming increasingly challenging. To try and offset this problem we keep large stocks of the most frequently used components therefore reducing search times and reducing your time to market.​
Review,Test and Development
We perform reviews and tests at every stage. Further electronic testing can be specified to include X-Ray of BGA placements, flying probe and full functional tests using a specified rig and procedure provided by the client. Testing is a crucial part of every build. 
Embedded Software Design
It is a crucial part of our service; offering seamless hardware interaction, time tolerance, great performance which reduces processor power and increases battery life. Our expertise makes your product is robust, optimised, easily maintainable and with a long life.
CAD Layout Design
Our Global teams are experienced in all types of CAD/CAM layout; multi-layer, RF, analogue and mixed technology, digital high speed design, signal and power integrity.  We help our clients improve their R&D, thus, decreasing in-house costs and reducing time to market.
FPGA Design
Our FPGA expertise has greatly benefited our clients, some of these benefits have been achieving significant performance improvements by breaking the paradigm of sequential execution. Improved reliability and reduced time to market through flexible and rapid prototyping.